In the midst of the current Brazilian political crisis, we ask how the margins can acquire a new centrality in crafting future alternatives in a moment where existing economic and democratic models seem to be failing us. This latest episode of Talk Real saw the participation of Giuseppe Cocco (political scientist, Rio de Janeiro), Clara Ianni (researcher and artist, São Paulo), Isabela do Lago (artist, Belém) and Jota Mombaça (performer and researcher, Natal).Talk Real is a nomadic broadcast, started by the NGO European Alternatives in 2015 in partnership with film-director Berado Carboni and Piroetta productions and supported by openDemocracy. Talk Real is an audiovisual platform for the dissemination of innovative ideas and the organisations and individuals behind them, creating a space for dynamic discussions that explore topics in depth, from a radical perspective. It seeks to create an opening to the world and to be transformed by the tensions and energies that run society with the aim of building a wide alternative media network.
Commenting the reflections of Pier Paolo Pasolini on the appearance and death of 'delle lucciole,' Didi-Huberman writes: 'There are moments of exception in which human beings become fireflies – luminescent, dancing, erratic, inapprehensible, and resistant beings as such (…).' The youth that induced the winds of June 2013 in Brazil and its struggles is like a dance 'amidst darkness.' A 'dance of the desire composing a community,' against the oppressive light of projectors and the all-probating dark night, which hinders us from distinguishing the 'signs of our times.' Such are the aforementioned 'uncertain traces' and the minimum signs of the 'advent of a new season' of constitutive nature. To resist: an event within the event. Whether one attempts to criminalize or control it, nobody can state to 'know' its dynamics. For, 'in order to know about fireflies, one must observe them during the present of their survival: to see them dancing alive in the heart of the night (…).
'Extract from 'The Dance of Fireflies' by Giuseppe Cocco (2014)
The Talk Real episode 'Marginalia' was hosted by Fábio Zuker (adjoint curator at Vila Itororó Canteiro Aberto, São Paulo) and curated by Luigi Galimberti (Transnational Dialogues). It took place during the Brazilian Nomadic Residency of Transnational Dialogues, organised in partnership with Goethe-Institut São Paulo.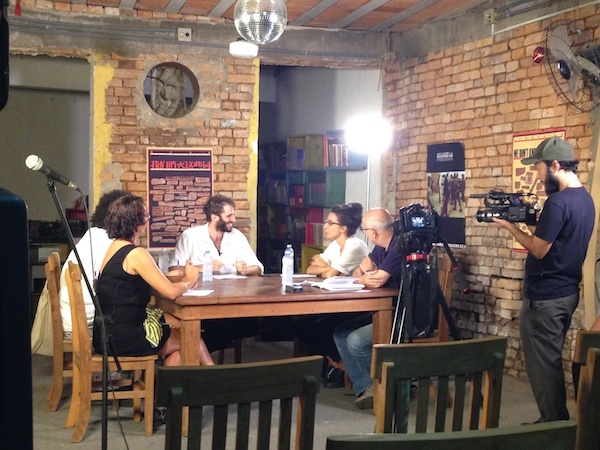 Previous episodes of Talk Real featured Yanis Varoufakis, Marisa Matias, Antonio Negri, Federico Campagna, Celia Mayer and many others. Watch the full series at:
www.youtube.com/TalkRealTV