With the support of Transnational Dialogues, curators Rachel Marsden and Andy Cooke have organised RareKind China, a showcase of the diverse visual identities of graffiti and street artists from China and the UK, who were invited to create original work that responds the international context of street art and to the 30-year history of the Centre for Chinese Contemporary Art (CFCCA).
This project went beyond conventional understandings of graffiti and street art as an underground 'subculture' to collaborate with writers, academics, illustrators and graphic designers and extends beyond the gallery walls into Manchester's city centre, connecting with the city's wider Chinese New Year celebrations. Two artists from Hong Kong, Uncle (AfterWorkshop) and Rainbo (China Graffiti Girls), who came to the UK specifically for this project, are shown in this film produced by students from Manchester Metropolitan University.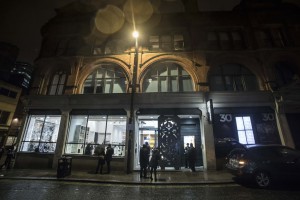 February-July 2016
Featuring artists Xu Bing, Cao Fei, Lee Mingwei, Tsang Kin-Wah, susan pui san lok, RareKind China, Gordon Cheung and Yu-Chen Wang.