The events at MAXXI Museum in Rome will take place within the context of the exhibition Open Museum Open City. Artists, curators and researchers who have been specifically invited form Brazil and China will take part in a series of discussions and performances.
Time: Sat 15 (15:00 – 22:30) and Sun 16 (morning – 19:00) November 2014
Venue: Museo MAXXI, Via Guido Reni 4A – 00196 Roma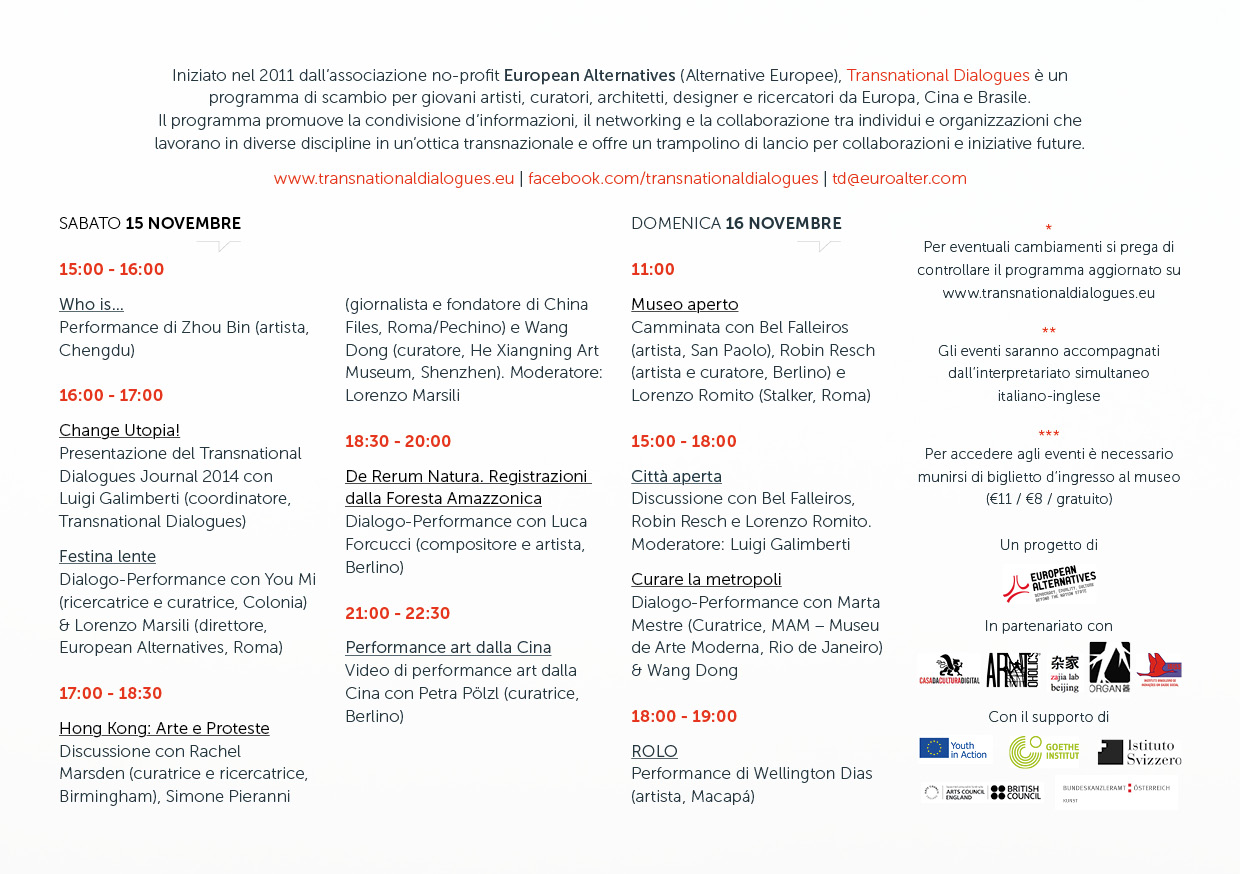 Saturday 15 November
15:00-16:00 @ Gallery 2/3
"Who is…", Performance by Zhou Bin (artist, Chengdu)
Zhou Bin is one of the best known performance artists in China. After he has graduated from Xi'an Academy of Fine Arts, he took part in the artistic communities of Old Summer Palace and Songzhuang in Beijing. He now lives and works in Chengdu. Zhou Bin has created more than 50 performances that he has been taking around the world. He has recently founded "Micro Body Language", the first "body art" festival in China.
16:00-17:00 @ Gallery 2
 "Change Utopia!", Presentation of the Transnational Dialogues Journal 2014 with Luigi Galimberti (coordinator, Transnational Dialogues)
Transnational Dialogues Journal is a journal in English, Chinese and Portuguese that presents several articles from philosophers, curators, policy makers, artists and other prominent figures from the artistic and cultural fields of Brazil, China and Europe. Among the many contributors are Luiz Camillo Osorio (curator, MAM – Museu de Arte Moderna, Rio de Janeiro), Hu Fang (founder, Vitamin Creative Space, Guangzhou), Juca Ferreira (former Ministry of Culture of Brazil) and Barbara Szaniecki (design researcher, Rio de Janeiro).
"Festina Lente", Performance-Dialogue with You Mi (curator, Cologne) & Lorenzo Marsili (director, European Alternatives, Rome)
Starting from archaeological discoveries until recent urban redevelopments, Lorenzo Marsili and You Mi will try to draw and re-draw the history of the cultural, artistic, architectural and social developments of China and Brazil, and of their ties with the European context which often acted as an invisible but influent bridge among those two countries.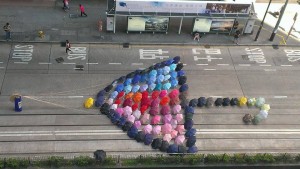 17:00-18:30 @ Gallery 2
"Hong Kong: Art and Protests", Discussion with Rachel Marsden (curator, Birmingham), Simone Pieranni (journalist and founder of China Files, Rome/Beijing) and Wang Dong (curator, He Xiangning Art Museum, Shenzhen). Moderator: Lorenzo Marsili (director, European Alternatives, Rome)
The current protests taking place in Hong Kong in the last weeks can be considered on the topical moment of Chinese contemporary history, second only to the protests that took place in Tiananmen Square in 1989. The cultural discourse that crosses the "Umbrella Revolution" is intrinsically linked to the development of the social media, of digital art and of democratic propaganda.
18:30-20:00 @ Gallery 2
"De Rerum Natura. Field recordings from the Amazon", Music Performance with Luca Forcucci (composer and artist, Berlin)
The performance, supported by the Istituto Svizzero in Rome, is by the Italian and Swiss composer Luca Forcucci. The piece, De Rerum Natura, has the sounds of the Brazilian Amazon Rainforest recorded in the field by Luca Forcucci as the main musical material. The performance explores also the experiences of listening, where the perception of the dynamic relation of space and sound are the main element.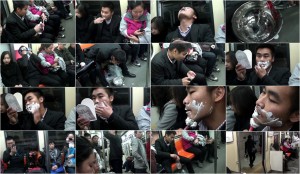 21.00-22:30 @ Gallery 2
"Performance Art from China", Screening of Chinese performance-art with Petra Pölzl (curator, Berlin)
This selection presents documentation from past performances undertaken by artists from Beijing, Chengdu and Chongqing (China), some of which had never been displayed before out of the country. The videos show the strategies employed by the artists to express individual and collective concerns through time, space, their body and their existence. Featured artists  are Huang Xiang, Dong Jingling, Li Binyuan, Liu Chengrui, Liu Wenchao, Alessandro Rolandi, Sazi and Xing Xin.
Sunday 16 November
11:00 – At the gates of MAXXI Museum
"Open Museum", Performance-Walk with Bel Falleiros (artist, Sao Paulo), Robin Resch (artist and curator, Berlin) and Lorenzo Romito (Stalker, Rome)
What defines the centre? Where is it and what does it mean as a starting point for a walking dialogue? How do we perceive the spatial territories within the city? Where are the transit zones and boundaries? This new walking performance is part of the collective and performative journey that the artists involved have been carrying on across Europe, China and Brazil.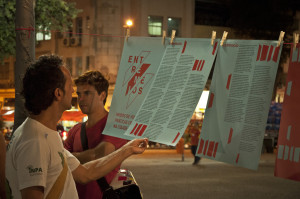 15:00-18:00 @ Gallery 2
"Open City", Discussion with Bel Falleiros (artist, Sao Paulo), Robin Resch (artist and curator, Berlin) and Lorenzo Romito (Stalker, Rome). Moderator: Luigi Galimberti (coordinator, Transnational Dialogues)
Findings, narrations and memories from the performance of the morning will be recollected and shared with the public for a discussion between peripheries and centres, urbanism and art, artist and citizen. The discussion will develop on the verge of the flâneur spirit of Dadaism and the methodical research of political spaces to live and share.
"Curating the Metropolis", Performance-Dialogue with Marta Mestre (Curator, MAM – Museu de Arte Moderna, Rio de Janeiro) & Wang Dong (curator, He Xiangning Art Museum, Shenzhen)
Two young curators from the most established museums of Brazil and China will engage with the following questions: What is the need to reach out to new audiences? Is it related to the need of justifying the spending of public money for culture? Otherwise, what could new audiences bring to cultural production? How do museums in Brazil and China behave in this respect? Are museums the real arena where politics and art meet each other?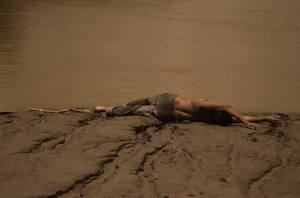 18:00-19.00 @ Gallery 1
Performance "ROLO" by Wellington Dias (artist, Macapá, Brazil)


Wellington Dias is an artist and performer. He is one of the coordinators of Casa Gira Mundo (Lapa, Rio de janeiro) and founder of the Bando Filhotes de Leão (Rio de Janeiro). His project "Tecno Barca", which took place in the Archipelague of Bailique in the Amazon River, won a Funarte 2011 award and the Premio Samuel Benchimol de Empreendedorismo Consciente 2012.
* Simultaneous interpretation English-Italian and vice versa will be provided for all the discussions. Admission ticket to the museum (€11/€8/free) is required to attend the events.
[Photo Credits (from top to bottom): Causeway Bay. Image taken from the web; No Gap Between, Li Binyuan (Still from video, 2010); Entremeios at Rio de Janeiro. Courtesy of Barbara Szaniecky; Performance ROLO, Wellington Dias. Courtesy of the artist.]