Local Coordinators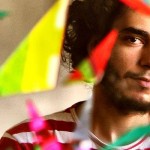 TAHIAN BHERING (Brazil) is a visual artist and cultural producer. He holds a BA in Fine Arts for the Federal University of Rio de Janeiro (UFRJ), now studying at the Visual Arts School of Parque Lage. Takes part in multicultural events, practices urban interventions and likes to observe and research the urban environment and surroundings, constantly thinking about the cities. In his works he mixes various images and codes present in the urbanized reality blending them into compositions full of fragments of this visual urban vocabulary. Tahian has lived in Berlin and is now situated in Rio de Janeiro, currently dwelling in some imaginary place in between, working to establish a cultural bridge among these cities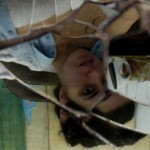 ANDRESSA VIANNA (Brazil) is a multimedia producer, who loves the intersection between technologies (old and new) in social and civil matters. She trained as a researcher in traditional cultures and contemporary myths. She also studied Cinema and Digital Medias. She has been working in collaborative projects and horizontal methodologies, including art, political and collective organizations for urban and street manifestations. She believes in self-narrative and self-empowerment for people, objects, knowledge, feelings and machines for a less hypocrite comprehension of culture.
Participants
MATTI AIKIO (Finland) is a visual artist. He has studied at Tromsø Academy of Contemporary Art. He comes originally from Vuotso, the southernmost sámi village in Finland. He is also reindeer herder. Artistically he has background in photography as a medium and he has worked also as freelance photographer. At the moment he focuses on video installations. Among his interests are nomadism, as well as issues of post-colonialism, conflict and globalization. Recently his works have been shown in Tromsø, Oslo, Hammerfest, Rovaniemi, Hamburg and Singapore.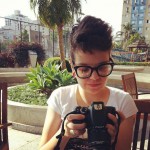 MALU ANDRADE (Brazil) is a cultural producer and art educator. She graduated in History and holds a MA in History of Arts and Architecture at the Architect and Urbanism School at the University of São Paulo (FAU/USP). She has worked for several Brazilian cultural institutions as producer and art educator for visual arts. She was a member of the Baixo Centro collective and Casa da Cultura Digital. Her research is on artistic urban intervention and the environment where it takes place, as well as on how communities can empower themselves through art.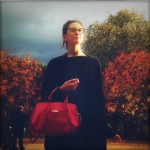 ANNA ARUTYUNOVA (Russia) is a journalist and researcher who contributes to different art publications and works as an art-correspondent for Vedomosti.Friday a weekend supplement to a business newspaper co-published with Financial Times. Her main focus is the art-market process and the problems of commercialization of art. Her research of the art-money relationship and the changing economy of art has resulted into a series of lectures at the Institute of Contemporary Art in Moscow and will be at the core of a book that she's writing for the Higher School of Economics Publishing House (Moscow).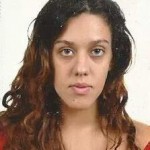 ISABELLA AURORA (Brazil) is a visual artist. Currently enrrolled in the painting course of the Fine Arts school of Rio de Janeiro, she is Native of Rio and professional hula hooper. The study of visual language has commenced early with passionate drawing in early years. Currently developping paintings of medium large dimensions and performing, she takes interest in the holy, the common space (of mind and matter), illusions and guerilla. Having shown works in Niteroi and Petropolis, is preparing for a show in Rio in March 2014.
MARIA REBECCA BALLESTRA (Italy) and RACHELA ABBATE (Italy/Germany) are two visual artists who founded the association ART FOR PLANET concerning the biodiversity of cultures, operating in trans-disciplinary and participatory projects, which integrate scientific researches and socio-ecological outcome as well as long-term projects combining social and artistic activities. Both artists are engaged in international trans-disciplinary and cross-cultural projects in which research operations have outcomes in artistic practice as new interpretations of reality. They are currently working on the last step of "Journey into Fragility", a project that has been initiated by Rebecca Ballestra, which focuses on the environmental crisis and individuals' responses to it. In 2013 they received an award at the Sea Art Festival 2013, Busan Biennale (South Korea).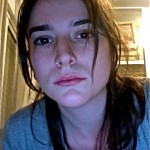 CAROLINA BARRES (Brazil) is a bailarina and an actress, who graduated in Cinema with a great passion for writing. Born and raised in São Paulo, she has never lived anywhere else. At the moment she is writing her first feature film script and her first theatre play, all at once, kind of frightening for her. During the last years she has tried to work and almost every possible thing but people are what motivates her to continue, lots of different people, and something new almost everyday. Now she works in a restaurant and prepares herself for her master in creative writing. After that, besides writing she will be an art teacher for children in schools, communities and in life.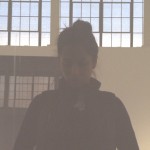 FERNANDA BARROS CARVALHO (Brazil) is a visual artist. She makes multidisciplinary works, connected with the quotidian. She scrutinizes the poetry hidden within objects and urban situations, that unfolds through publications, photography and tridimensional. Fernanda has taken part in the art residencies Berlin_Imfokus (Berlin, Germany) and Colonia de ferias (Sao Paulo, Brazil). She holds a bachelor in Communication (FAAP/Sao Paulo, Brazil); she has studied Photography at Tomie Ohtake Institute (Sao Paulo, Brazil) and at ICP – Institute of Contemporary Photography (New York, USA), as well as Creative Writing at AIC (Sao Paulo, Brazil). Recently she has exhibited at 20º Salao de Artes Plasticas (Praia Grande, Brazil), Contempo Gallery (Sao Paulo, Brazil) and Bethanien (Berlin, Germany). She is the co-founder of Prólogo, an independent publishing label.
 NUNO CASSOLA (Portugal) is a São Paulo-based artist.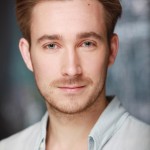 MARTIN COLLINS (United Kingdom) is a dancer, actor and producer, trained in theatre at Lancaster University, Dance Theatre & Dance Science at Trinity Laban. He has worked as a performer with dance and theatre companies in the UK including Levantes Dance Theatre, Darren Ellis Dance, Ballet Boyz, Dukes theatre Company, Marlow Theatre, The Grange Park Opera and the late Nigel Charnock Company (Ten Men). He has also performed in a number of different feature films for the UK and Japan, TV and site-specific works commissioned by the BBC, RM Europe, and Independent British Film. Martin has produced work for a number of prestigious national and international platforms including British Dance Edition, Sadler's Wells, South Bank, the Royal Festival Hall, Roubaix and Burgos festivals. This has been done in collaboration with companies such as Lost Dog, Random Dance, Company of Elders, Royal Ballet School, Shobana Jeyasing, Henri Oguike Dance Company, Darren Ellis Dance and Sarah Linstra.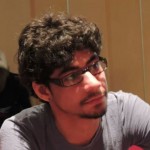 RAPHAEL COUTO (Brazil) is visual artist, performer and art-educator. Works at Colégio Pedro II, a traditional school in Rio de Janeiro, where he develops ideas in art creation and art education. He is now completing his Master in Contemporary Art at Universidade Federal Fluminense, Niterói. He is interested in collective creations and collaborations, art as education, artists books, body as language, and performance in different ways.
BEL FALLEIROS (Brazil) is an artist from São Paulo that graduated as an architect. Her work is based on her connections with the cities in which she lives and has lived in. Using the experience of drifting through them she connects and collects materials, images, sensations and phrases. With these collected materials she recreates her own space, full of references, memories, ruins and monuments. Her work was born from her strong connection with São Paulo: a city full of contradictions, huge dimensions and complexity; a relationship of passion, love and hate. In this environment she founded an art space in the city center called Aurora, a mix of art collective, studio, and gallery – a space for exchanging artistic experiences – that recently won a government open call for independent art spaces. She also recently opened an individual exhibition at Caixa Cultural (a prize from a public open call for artists), at the ground zero point of the city. In this exhibition, the subject is São Paulo, her memories of childhood cities (her father hometown in the countryside) and her relationship with the other cities in which she has lived (New York, USA, in 2010 and Berlin, Germany, in 2011). Bel is part of the study group Ateliê Fidalga, organized by the Brazilian artists Sandra Cinto and Albano Afonso, which has more than 60 participating artists from all ages and nationalities.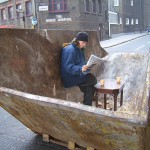 RAPHAEL FRANCO (Brazil) is a Brazilian visual artist and educator. He graduated in Visual Arts at FASM (Faculdade Santa Marcelina), São Paulo. In his work, Raphael explores the relationship between man, nature and the urban environment, reflecting on the way we relate to and transform the space around us. He has been involved in collaborative projects and has been showing his work in both group and solo shows in Brazil and Europe. He is a founder member of the collectives "White Chair" and "New Species".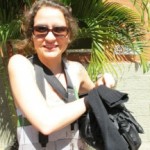 ANA HUPE (Brazil) is an artist. She is currently doing a Ph.D. in Fine Arts at Rio de Janeiro's Federal University. She holds a Master degree in Fine Arts from Rio de Janeiro's State University (UERJ). Her artistic research deals with performative writings, texts in an expanded field, photography and video as means for storytelling. In 2014 she won a Prize from IPHAN – National Institute of Historical and Artistic Heritage. She is now taking part in a collective exhibition at Paço Imperial, Rio de Janeiro (March). She is also taking part at the performance festival Performatus at Central Galeria, São Paulo (March). In 2013 she did a one-month residence at La Ene, Buenos Aires, Argentina, exhibited works at TAL gallery at Fábrica Bhering, Rio de Janeiro, took part at Vênus-Terra, Performance art's festival at Teatro Ipanema, Rio de Janeiro, presented works at CSO, Seminary on arts at University of Fine Arts of Lisbon. She also published drawings and texts in both Brazilian and international art magazines, such as Revista Arte & Ensaios and Revista Gama. From 2009 to 2013 hadi been collaborating with Opavivará, a visual artists collective based in Rio de Janeiro, with whom she took part in many exhibitions in Brazil.
HANNA HUSBERG (Finland) lives and works in Stockholm, Paris and Vienna. Her work evolves between a regular practice of video, and several installation projects challenging different aspects of our physical and visual perception. Her ongoing research project Atmospheric Alienation has been developed in exhibitions and installations and through a curatorial practice with Contingent Movements Archive and Symposium conceived for the inaugural Maldives Pavilion at the 55th Venice Biennale. She is a participant of Frontiers in Retreat, a multidisciplinary research project aimed to broaden the understanding of global ecological changes and their local impacts on the environment.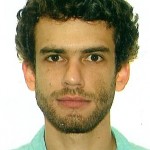 ANDRÉ LEAL (Brazil) has graduated as architect and urban planner at the University of São Paulo (2012), but he is actively researching and producing in the field of visual arts. He currently lives in Rio de Janeiro, where he is focussing on the practices of artists Hélio Oiticica and Gordon Matta-Clark as part of the Master in Visual Languages at the School of Fine Arts of the Federal University of Rio de Janeiro. He is also an independent curator and a researcher of urban artistic practices. He has presented papers in international congresses addressing contemporary art and modern architecture and has also exhibited his work in group shows in São Paulo.
DAVID LIMAVERDE (Brazil) is a Netherlands-based art-educator, performer and PhD researcher in the Faculty of Fine Arts at the University of Barcelona. He is interested in Cultural Pedagogy, Corporeality and Art-activism. Artistic director of Ally Theatre – Participatory arts and sensorialities..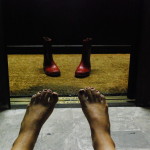 JULIA MASAGÃO (Brazil) is an architect and graphic designer from São Paulo. She currently acts in practical and research projects on visual representations and development of cities. Her main interest is on empty urban, abandoned spaces and leftovers. She received her diploma by the Escola da Cidade. In 2010, Julia won the 24th edition of the Premio de Cartaz do Museu da casa Brasileira together with Brazilian Nadezhda Mendes da Rocha, and in 2012 had her poster selected as a finalist, with Valentina Soares, for the 25th edition of the same prize. From 2009 to 2011 she worked as a graphic designer of Cosac Naify. Between 2008 and 2009 she was assistant of the architect and critic Guilherme Wisnik on the public art project Margem (Itaú Cultural). In 2009, she participated in the group exhibition, Roupa de Domingo with photos  of installation/performace. Since 2011 lives in Berlin where she attends the master "Space Strategies" in Weissensee arts school (Kunshthochschule Weissensee). In 2013 she won an competition to develop the new cultural identity for Centro Cultural São Paulo, together with Joana Barossi and Marina Portolano (project to be developed in 2014). www.juliamasagao.com
OPAVIVARÁ! (Brazil) is an artist collective from Rio de Janeiro who create poetic experiences dealing with the collective and relational.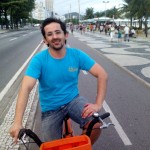 VICENTE PEREIRA (Brazil) is an actor. He graduated at Universidade Estadual de Londrina (UEL) with a master degree on Samuel Beckett's playwriting by Universidade Federal do Estado do Rio de Janeiro (UNIRIO). He is a technical advisor for the performing arts in National Department of SESC in Rio de Janeiro. Since 2004, he has been working as a theatre teacher and theatre consultant in schools, such as the Municipal Theatre School of Londrina, state of Parana, and in social projects located in the countryside of Londrina, Rocinha, Complexo do Alemão, Complexo da Maré, among others. From 2009 to 2012, he was coordinator for institutional development in the NGO Ação Comunitária do Brasil, being responsible for partnerships with the government, companies and civil society. He is founder and coordinator of the Favelas' Arts Festival, from 2010 to 2013, and of the Companhia de Teatro Asa-Delta that he heads since 2007.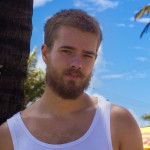 ALEXANDER PETTERSSON (Sweden) has studied social anthropology in Stockholm and Madrid and works in cultural production. His main research interests are in questions related to gender/sexuality, religion/spirituality and resistance against hegemony (and any combination of the three).
.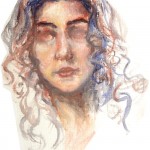 VANESSA ROSA (Brazil) recently graduated in Art History at Rio de Janeiro State University. As someone who is in love both for drawing and theory, she usually creates projects that put together interpretations on history/philosophy/ideas with drawings and paintings of common people. Currently, she works mostly with urban art. She has worked as project coordinator for several organizations, such as the NGO Rede Nami. She regularly  participates in art exhibitions. She is also an illustrator and art director for the publishing house Viajante do Tempo. Vanessa has a deep interest in collaborative projects. She has already proposed and participated in mural paintings, exhibitions and other projects in Chile, Paraguay, USA, France and Germany.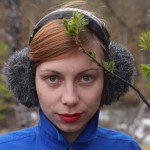 EMILIJA SKARNULYTE (Lithuania) is a filmmaker and artist. She graduated with a BFA the Brera Academy of Milan, Italy, and with an MA in Tromsø Academy of Contemporary Art, Norway. She mainly works with film, video, photography, installations and sound performances. The work of Skarnulyte consists of a series of active visions, in which she examines reality with a political and a poetic approach. Emilija´s films have been screened at the 59th International Short Film Festival Oberhausen, Edinburgh International Film Festival, OFF & FREE International Film Festival, Seoul, South Korea, Sao Paulo International Short Film Festival, Brazil, LUMEN 2013 festival, New York. She has had her own exhibitions in Italy, Norway, Lithuania, France and Greece. In 2009 she received the Italian National Prize of Fine Arts for her video "Limbic Systems".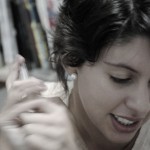 LAURA SOBRAL (Brazil) has studied architecture and urban planning at Universidade de São Paulo and Universidad Politecnica de Madrid. She now works with cultural projects mainly about mobility (non-motorized transport) and democratization of literature. Laura also works making urban interventions, she acts in public spaces, proposing improvised interventions – which are easy to be reproduced – thereby incentivizing the relation of the appropriation of public space by city dwellers. She periodically writes for one of the most important architectural magazines in Brazil, aU, about architecture, city spaces and urban processes.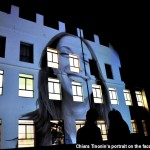 CHIARA TINONIN (Italy) is a cultural economist and free-lance writer. She graduated with a M.Sc. in Economics and Management in Arts and Culture at Bocconi University (2007). Her research focuses on the role of art and culture for economical and social growth, in particular on the opportunities for culture to provide new possibilities for human and social development. Formerly editorial coordinator of and contributor to the Annual Reports on Art Foundations and Sponsoring at The Art Newspaper (Italy), she is advisor to cultural organizations and companies on strategic investments in the arts, as well as lecturer at master courses. She is a founding member of C.A.S.S.E., a female think tank on cultural policy based in Italy, and a Manydee member after attending the Unidee residency program at Cittadellarte-Pistoletto Foundation in 2010.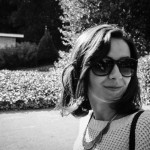 MARINA TRANCOSO (Brazil) is originally from Sao Paulo, but since 2003 she has lived in many countries, such as Mexico, the Netherlands and Germany, where she is currently based. Graduated with a BA in History at Mexico's National Autonomous University (UNAM) and holding an MA in Arts and Heritage Management from Maastricht University, Marina has worked in several cultural and art institutions in Europe and Latin America. Recently she organised, along with Maria Wildeis, the 2013 edition of STROM Festival, an independent art festival in Cologne, Germany. She is interested in developing new platforms/networking strategies for independent art initiatives and she aims to start her own publishing house.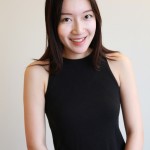 YOU MI (China/Germany) is a media artist and media theorist by training, and works as researcher, curator and writer in the arts. She has worked with theater director LIN Zhaohua, TIAN Gebing, film director LU Chuan and Oscar-winning art director Tim Yip on various film, stage and exhibition productions. Her own film and works has been included/shown in Siggraph, Lisbon Triennale, Athens Biennale, Berlinale and on British Channel 4. Her curatorial projects often involves longer term research, such as Dashila(b) a long-time artistic urban intervention project in Beijing. She is fellow of Independent Curators International and German Chancellor Fellowship.